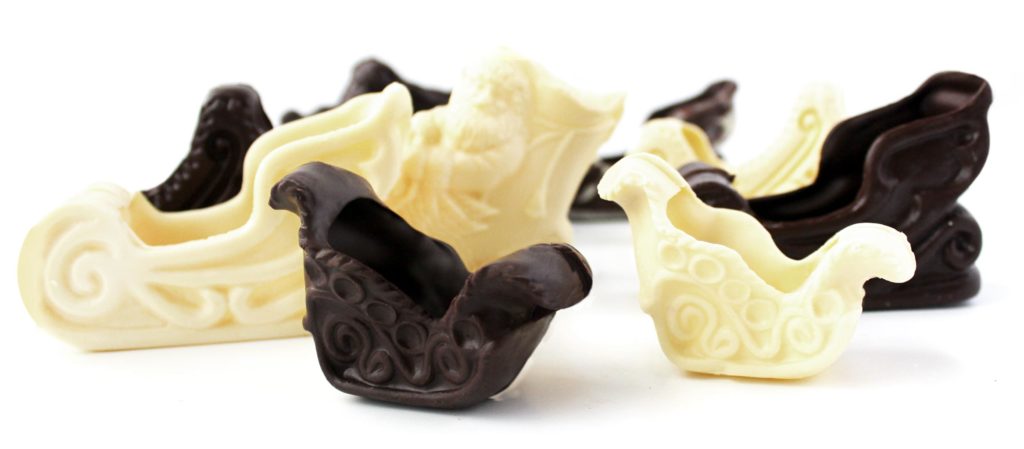 As you are planning your holiday desserts, keep in mind one of our most timeless pieces- holiday sleighs! We carry a wide variety of sizes that can add the perfect touch to your buffets or plated desserts. Each sleigh is made with Callebaut Chocolate from Belgium!
Our Victorian Sleighs are just the right size for buffets or dessert trios. They can be filled with peppermint mouse or freshly sugared holiday berries and cream, to name a few options! We make them in white, dark, or holiday colors, but our favorite is marbled. They are made with dark chocolate and have a light white chocolate marbling throughout.
If you are going to be serving a plated dessert, we recommend our Classic Sleigh. It's 4" wide and 3" tall, so it can hold a larger dessert portion. Fill it with scoops of gingerbread ice cream, chopped salted caramel brownies and whipped cream, or another festive idea!
Our Amenity Sleigh makes a gorgeous presentation on any display or dessert table. They can hold chocolate-covered strawberries or holiday candies and they're gorgeous in dark chocolate, white chocolate, or marble.
Please contact us any time for more information about our holiday selections! If you create anything with our sleighs, we would love to see them. Tag us on social media or email orders@chocolateaccents.com.